Laugh & Luck Reverse Raffle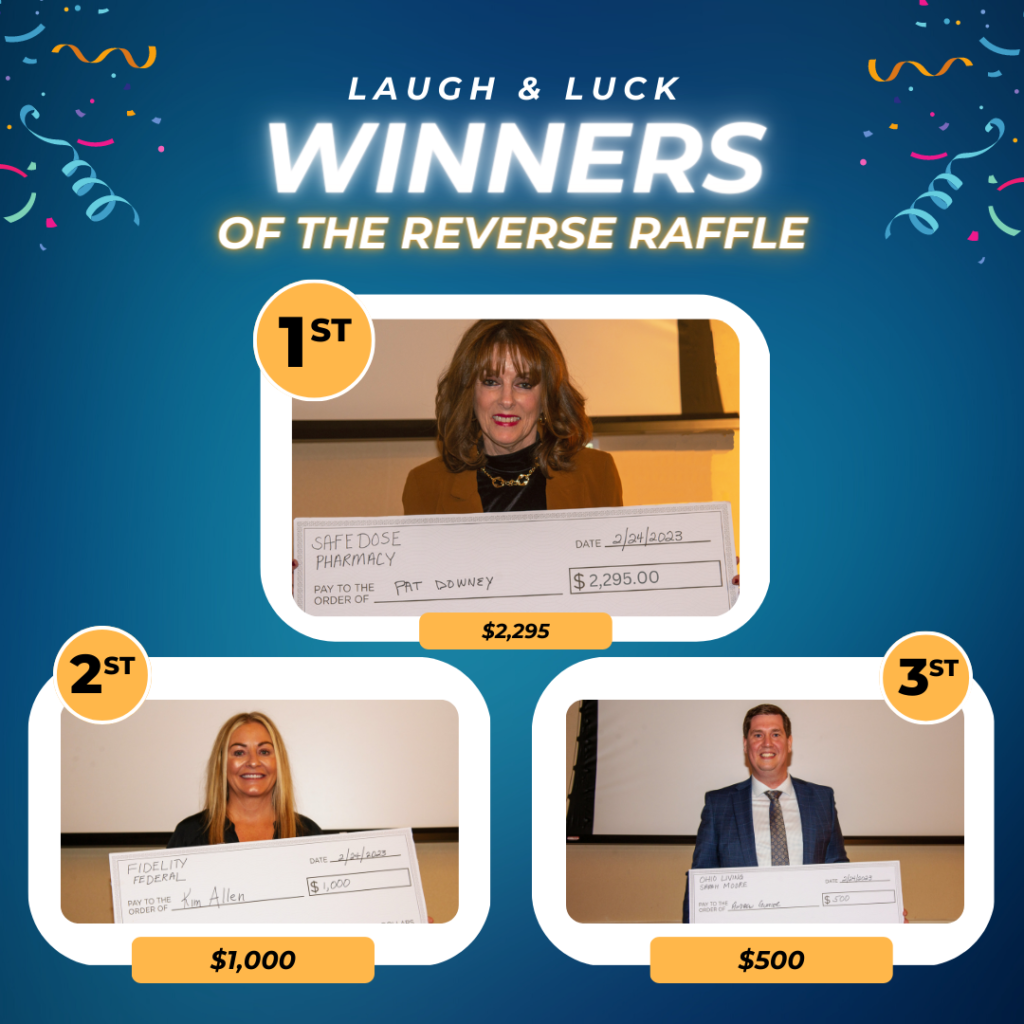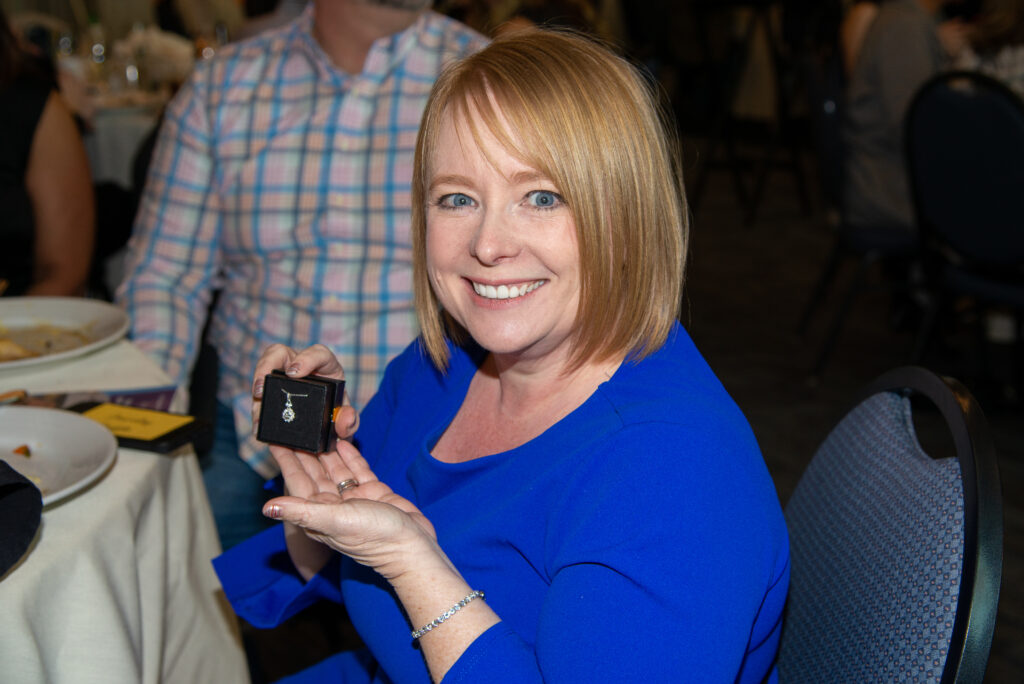 Jewelry raffle winner! Our lucky guest went home with a necklace with a 10-karat gold diamond pendant valued at $1,000 courtesy of Kimberly's Diamond Corner.
Use promo code LASTMINUTE for $5 off your admission tickets or raffle tickets. Contact [email protected] for $50 off your table!
EVENT HIGHLIGHTS
Date: Friday, February 24, 2023
Time: 6:00 pm – 9:00 pm
Location: Nationwide Hotel & Conference Center, 100 Green Meadows Dr S, Lewis Center, OH 43035
Interactive stage show by Comedy Magician Michael Kent!
Jewelry Raffle courtesy of Kimberly's Diamond Corner – Only 50 boxes available! $20 a box. One lucky person wins a gold necklace with a 10-karat gold diamond pendant valued at $1,000.
Games: Wine Toss and Plinko
360 degree photo booth experience
Silent auction
Dinner and dessert
WBNS 10tv Sports Anchor, Dave Holmes will join us again as event emcee.
Reverse Raffle
REGISTRATION DETAILS
Raffle Ticket Only $50 Want to participant in the raffle, but can't attend the event? Buy a raffle ticket and play from home. We will contact you if you win!
Single Ticket Admission $80 Raffle ticket, dinner and show!
Couple's Ticket $150 Everything is better together! Two raffle tickets, dinner and show.
Table Sponsor $600 8 admissions, 8 raffle tickets, company listed on your table (optional).
Double Your Luck Table Sponsorship $1,000 8 admissions, 16 raffle tickets (2 per guest), prime seating in the first two rows closest to the stage and company listed on your table (optional).
Unable to attend the event, but would still like to support individuals with disabilities? Click here to donate.
Additional non-monetary prizes will be awarded.
Laugh & Luck Preseted by Medical Mutual took place on Friday, February 24, 2023 at Nationwide Hotel and Conference Center. The event included a silent auction, 360 photo booth experience, Magician + Comedian, Michael Kent, a wine toss, and jewelry raffle. 
With the generous support of in-kind donors, sponsors and community members,  Alpha made a net profit of about $22,000 to help fund the addition and expansion of our programs and services for people with disabilities.
Stay tuned for 2024 Reverse Raffle details!
A combination of interactive comedy and mind-blowing magic has made Michael Kent a CROWD FAVORITE across the nation.
In addition to more than a decade of college campus tours, Michael has been called on to perform for some of the most prestigious corporations and military groups all over the globe – from Hollywood, California to U.S. Troops serving overseas in 13 countries. He names his tours overseas performing for our military as the greatest accomplishment of his career.
In a style reminiscent of a late-night talk show, Michael invites the audience to laugh with him at the absurdity of a modern-day magician. Michael's audiences experience what it's like when a stand up comic performs (and occasionally pokes fun at) the art of magic.
Event proceeds will support programs and services for individuals with disabilities.
The Alpha Group provides services to more than 700 members in 13 Ohio counties (Ashland, Crawford, Delaware, Franklin, Knox, Licking, Marion, Medina, Morrow, Richland, Summit, Union and Wayne.)
83 cents of every dollar goes directly back to programming.
On average, our transportation department makes 1,700 monthly trips; taking our members to medical appointments, their jobs, etc.
To learn more about The Alpha Group, read our 2021 Annual Report
Sponsorship opportunities are available and a great way to showcase your business! Contact Stephanie Steinbeck for details.
If you have questions about the event, contact [email protected].
Thank you to our event sponsors!
Thank you for your support to help people with ABILITIES succeed. The Alpha Group is a non-profit 501 3 (c) organization. Tax ID: 31-0810220.
Photographs and/or video will be taken at this event. By attending this event, you are giving event organizers permission to use photos and/or video for promotional use of Laugh & Luck Reverse Raffle and The Alpha Group.